Bodywrecker Lew Video Clip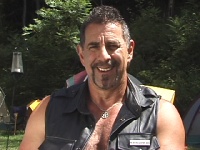 Recently I had a poll on the
WrestleMen
site about which sneak peek clip people would like to see next from the
STRONGHOLD
documentary "in the making." The winner was "Brooklyn Bodywrecker," Lew, and how he came to terms with his sexual attraction to wrestling, especially pro wrestling. For years Lew has been coming to the Hillside wrestling weekend, and many of you know him for his wrestling videos, which he has been doing for over two decades now. Let me tell you, he hasn't aged a bit. A terrific guy, and a great wrestler.
Enjoy the clip within the
WrestleMen
site in the next day or so. You see, membership does have its privileges. So, if you aren't a member, become one by clicking
here
.
Vic